Love and Sex: Second Base is a dating sim where a geeky guy (hopefully you) gets to be a roommate with two very hot girls and meet others in is daily life. The main purpose of the game his to get lucky and maybe marry the girl of your wet dreams, to do so you must make choices and raise your stats…
+ Changelogs
22.10.0d:
Fix:
– Beach date proposition always pops up
22.10.0c:
Fix:
– Beach date 2210c
– Bitchy foursome resume activity
– Outfits issues
– Working with sexy work outfit
22.10.0b:
Fix:
– Beach date hidden trigger
– Lexi stacktrace in demo
– Minami move in discussions issue
22.10.0a:
Fix:
– Aletta talk investigation crash
– Bree lexi threesome + beach dates
– Couldn't talk to kleio about anna after argument
– Crash caused by home harem beach date changes
– Demo crashing due to included lexi files
– Disable Taming harem when Kylie is in jail
– Lexi kiss layers
– Minami move in conversations
– Minami snooping should now trigger properly
– Pixelated sprites
– Remove palla max lp loss
– Unknown camila call
22.10.0:
Feature:
– Add drink with guys
– Add sexy casual outfit for harmony dance
– Anna blowjob [1cg][1ev] – Bitchy foursome text update
– Bree karate-gi outfit
– Bree lexi threesome [1ev] – Bree mc – jack events [3 cg][6 ev] – Bree z box events [1cg][2ev] – Cassidy ending [2ev][1cg] – Hanna alternate missionary [1ev] – Hanna ending [2ev][1cg] – Hanna event 10 [1ev] – Home harem bree lexi beach [2cg][1ev] – Lexi minami sam beach date [1ev] – Lexi minami samantha after beach date [1ev] – New android logo
– Sam sasha beach date [1ev] – Samantha alternate ending [1cg] – Taming bj (repeatable) [1cg][1 ev] – Taming harem bondage fuck ayesha [1cg][1ev] – Taming harem event 3 [1ev] Fix:
– Add morgan sprite/kiss wedding outfit
– Adjust firing process
– Anna bg issue
– Anna bj layers issue
– Attributeerror when taking sasha for a walk
– Attributes/needs not showing during intro
– Ayesha sub events flow
– Backwards compatibiltiy for palla's coffee event lp cap being overwritten
– Band harem pass time issue
– Battle of the band story tracker issue
– Crash caused by home_harem_beach_date_setup conditions
– Credits
– Do_event home harem issue
– From older saves, being able to date kylie while she's in prison
– Girls ending with their kids
– Hanna outfit change during stripclub date
– Harmony low purity swimsuit
– Ispresent checks in demo
– Kylie sending texts from jail
– Lexi story tracker
– Missing impregnate
– Morgan overlap issues
– Morgan_kleio_event_05 layers issues
– Optional lavish story tracker steps
– Palla gym typo
– Palla's workout event could trigger twice, potentially overriding her max…
– Pixie and band harem story tracker
– Propose anna
– Rework and reset ayesha sub route
– Rework band harem story tracker + allow retrying anna kleio date set up if missed
– Rework dynamic talk subjects as activities
– Rooftop not on the map
– Samantha birthday date dance
– Samantha expressions rework
– Spelling mistakes
– Sporty harem do activity stacktrace
– Taming do_event crash
– Taming harem notification
– Typo in ask date kylie
– Typo in taming_events
– Workout with hanna
Other:
– Harmonization on bree sasha threesome + adjust dicks/dick layers
– Rework a more generic gender check
v22.9 Monthly Update. Our new features:
19 new events
13 new CGs including sex scenes
300+ new voiced lines for Harmony
Pixie & Sporty Harem Update
Expression rework on Audrey & Kleio
v22.8.0b:
Feature:
– More gestures for android
Fix:
– Bitchy harem showdown
– Breemc issue with scottie and sasha event
– Map readability improvements
– Morgan events 7/7b
v22.8.0a:
Fix:
– Add some activities at the strip club
– Adjust lexi's schedule to fix home harem repeatable events
– Bree sprite issue with pubes
– Caught peeping
– Issue with stripclub date in demo
v22.8
City map
526 new voiced lines
3 New events and 4 CG for the Bitchy harem
4 Lavish spanking events
Add breemc talk subjects
6 more new or updated CG
8 new events
Kleio new haircut
v22.7.0a:
Fix:
– Alexis love max
– Consumables
– Date events
– Disable breemc/master missing events
– Sasha collar issues
– Typos
v22.7.0
Feature:
– 253 voiced lines for alexis
– 313 new voiced lines for samantha
1 Add guys smartphone in Love and Sex: Second Base
2 Add new pose for bree [1 sprite] 3 Alexis ending [1ev, 2cg] 4 Alexis ntr glory hole [1ev, 1cg] – Battle of the bands ending events [2 ev] – Bree cunnilingus with sasha
1 Breemc master story
2 Breemc sasha cunnilingus
3 Breemc sasha oral scenes [2 ev] – Kleio alternate cowgirl [1 ev] – Kleio cgs update
– Lavish blowjob at the office [1ev] – Lavish cowgirl [1cg] – Minami fuck date blowjob
– Pet shelter bg, cat and dog sprite [1bg, 3ev] – Ryan flirt and fight [2cg] 1 Sasha second footjob [1 ev] 2 Sasha titfuck alternate event [1 ev] 3 Sasha unpacking scene for breemc [1cg] – Threesome between minami & sasha [2cg, 1ev]
Fix:
1. Add a wait step in minami tracker
2. Add checks on do_activity
3. Add minami slutty dress in restaurant
4. Add missing button for victor
– Adjust max lp for some gifts
– Aletta pregnant office fuck
– Allow rollback during events
– Anna underwear date
– Ayesha (reverse) cowgirl
– Call in new context stacktrace
– Call_in_new_context/valid_events
– Cassidy's story tracker will update correctly if you miss cherie's party
– Condoms as consumable + enable/disable skills in cheat menu + small fixes
– Crash during lesbian stat update for guys
– Disable random bree position c
– Enable college harem
– Girls referring to their kids
– Harmony naked dance
– Increase time window to meet minami on saturday afternoon
– Infinity loop
– Issue while calling flags hooks
– Issue with the battle of the band for the demo
– Kylie fuck_kylie_jail not triggering
– Lexi dance sexy date pregnant
– Minami cowgirl nipples piercing
– Morgan story tracker not displaying next task
– Send texts conditions
– Small fixes in talk subjects
– Stacktrace condom for audrey
– Stacktrace pop in room.rpy
– Switch camila talk events to activties
– Temp fix on renpy.call
– University and office closed on christmas day
– Week 202228.

+ Cheats
Cheat code news
Hi guys 🙂
As we crossed the 15k goal the cheat menu will be made available to everyone, it will be a button in the game's phone (which will make it easier for Android users):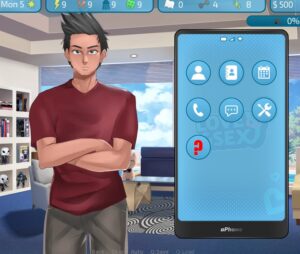 It will only be available on easy mode and will disable steam achievements.
Of course if the patreon takes too much of a dip it will be made exclusive again as I do need the funding to be able to make the game 🙂
Have fun
Andrealphus

+ Lain's Scene Gallery Mod
Features:
This is a mod for the game Love & Sex: Second Base which adds a scene replay gallery that contains every scene in the game! All the scenes are already unlocked/viewable, meaning you don't have to replay the game to be able to see the scenes in the gallery.
Once you load a save, open the pause menu to access the gallery. It's possible that a couple scenes might say they have missing images or an error. There's nothing I can do about that, so just click ignore if it happens.
Installation:
Unzip the mod and put the folder named "game" from the mod in your "Love and Sex Second Base" folder.

Release date: November, 2022
Genre: 2DCG, Adventure, Anal sex, Big ass, Big tits, Cheating, Creampie, Dating sim, Male protagonist, Oral sex, Romance, Sex toys, Teasing, Vaginal sex
Censorship: NO
Developer / Publisher: Andrealphus
Platform: Windows / Linux / Android
Version: 22.10.0d + Lain's Scene Gallery Mod + Cheat Mod + walkthrough
Language: English
Size: 1.49 GB
Download from [K2s]
Download from [RG]